Mugshot Generator v2.0 – the sequel to my popular  Generator V1.0 (one of the most downloaded files, check it out later). This time it comes with the instant photo background and 11 accessories. You can enable/disable accessories for awesome pranks.
These Accessories are including:
– Eye Patch   – Head Tattoos   – Mustache   – Sunglesses   – Groucho   – French Hat   – Lincoln's Beard   – Lumberjack Beard   – Mohawk   – Medic    -WWII Helmet    – Hair style "Lisa"
This mugshot generator file is way too easy to use. Just insert your photo and adjust the size of your face. Position it so the face matches the head provided (there is a hole in the head for your face). Your whole head won't be shown, it's just the face on the head I made in the file (yes, you will be a 6'2″ bald dude, kinda like Pitbull, only tall!)
Once you're done with placing your face, have a shot (of something wonderful) and move on. Enable/disable any of the accessories you want (you'll get some hilarious results in the process). When your'e don laughing, save the file somewhere safe. Use it appropriately.  Post it on social media and enjoy the comments. Use it as your channel's profile. Prank your little brother. Print it on your shirt. You get the picture.
This is one of my "generator" type files: Photoshop files that create certain designs using your provided assets, but also offer some variety. It's not like my flyer and poster templates where you just insert your face or another image and you're done. In Generators, you can also do some extra tweaking to customize it in some way. You have options. These files are more "interactive" than regular templates. Basically those are also just some easy to use .PSD files.
Check out my original Generator v1.0 HERE
 EDITABLE CHALKBOARD MENU WITH 8 GRAPHICS (CLICK TO SEE)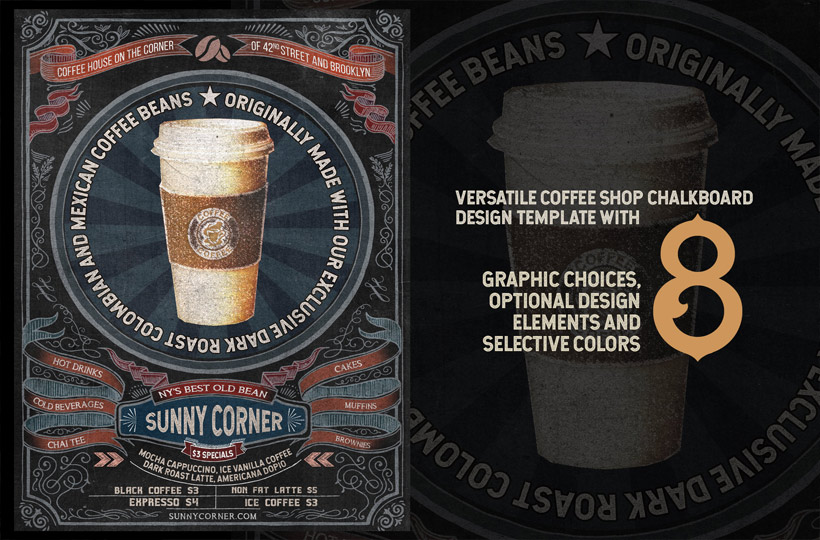 COFFEE HOUSE CHALKBOARD DESIGN is an instant attention-getter. This poster is not gonna replace your main menu, but it will surely get a lot of attention while directing people to your place. One poster with 8 different graphics to use for your coffee place. Just enable graphic you like, and re-type text. Many removable elements can be disabled as well as colors. Optional "Special" ribbon, selective colors, optional grunge overlay layer, optional circular text.
FREE DOWNLOAD – CHALKBOARD MENU (CLICK TO SEE)