[opener color="000000″ font="arial" align="left" size="small"]As you know by now, design is my specialty![/opener]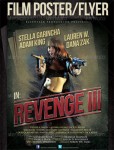 Film poster flyer is available NOW  – Just import your photo and change text! An instant attention- getter!
Film poster flyer – Easy to modify in minutes
Attention – getter
For film, shows, events and more
Did I say easy to modify?